Swiping short videos for a long time can easily cause sore neck and arms!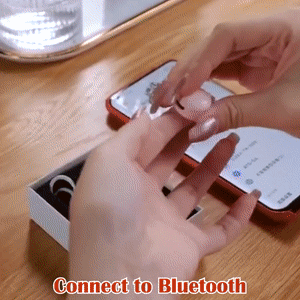 Our mobile phone remote control ring can help you. Its main function is to control your phone remotely, allowing you to release your hands while having fun.
MAIN FEATURES
[Material]
The skin-friendly silicone material makes it comfortable to wear for a long time. 100,000 times of pressing test, durable.
[USB Charging]
Charging for 2 hours, super long battery life 24 hours.
[Watch Short Video]
You can easily browse short videos with a simple fingertip operation. Double click: like; single click: next video.
[Free Hands]
Bluetooth 4.0 connection, fast and stable. 10M effectively controls the distance, whether you are lying down or sitting, you can easily control your phone.
[Widely Applications]
Compatible with e-book browsing, short video APP page turning like, and mobile phone taking photos.
SPECIFICATIONS
Material: ABS+silicone
Color: Blue, yellow, pink
Product Size: 20 × 20 × 23mm
Product Weight: 25g
Battery Capacity: 20mAh
Charging Input: 5V-20mA
Charging Time: 2 hours
Life Time: 24 hours
Effective Range: 10m
Package Includes: 1 × Mobile Phone Remote Control Ring
NOTE
For Apple mobile phones, you need to turn on Settings> Accessibility> Touch> Assistive Touch to enable normal use.